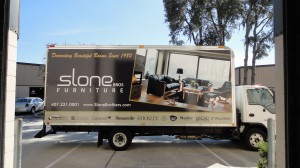 We provide tradeshow displays to help your Lakeland, Florida, business stand out.
If your business is planning to attend an upcoming tradeshow, Graphic Installers can create and produce tradeshow displays that will really capture the attention of your potential clients. Our company works closely with skilled graphic designers who will design a visually appealing display that helps your company stand out from your competitors. Each of our tradeshow displays is custom-made, so you won't have the same boring display as the company at the next booth.
Graphic Installers is located in Lakeland, Florida, but we provide services, including tradeshow display creation, to businesses all over the country. We offer affordable ways to promote and grow your business, as we know how expensive and confusing marketing can be. Our team of experts has more than 25 years of experience, and clients all over the world praise our customer service and high-quality products.
Our graphic design team will work closely with you to ensure your needs are met – and that the tradeshow displays we create for you look exactly the way you imagined (or maybe even better!) We can communicate online, or in person if you live in or near the Lakeland, Florida area, and all proofs will be sent for your approval before anything goes to print.
In some cases, we can also help with tradeshow display setup, so if you are interested in additional services, talk to the rep who is working on your order. We will work with you to make sure you are satisfied with your tradeshow display and excited for how well it will promote your business.